Aamir's Son Junaid Ready For His Bollywood Debut; Sister Ira Khan Is Super Excited
Get Daily Updates In Email
Published by Ricky Tandon on 16 Feb 2021
Bollywood's star Aamir Khan's lovely and talented daughter Ira Khan, on February 15, has posted a special post of her loving brother, Junaid. For the unversed, Junaid Khan has started filming for his first movie. The proud sissy applauded his brother's professionalism.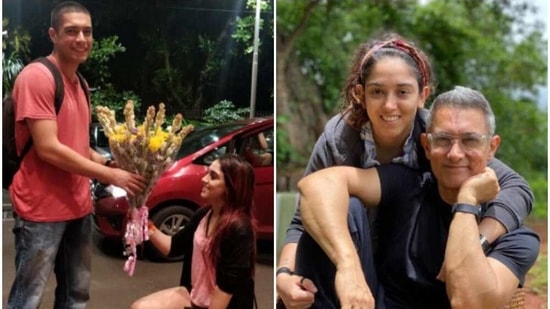 While sharing the post, she penned, "Junnuu! This wasn't his first play or his first show or our first play together but.. today is his first day! Of [email protected]@t. And I love this picture. He's been acting for a few years now but its still new for me. He even acted my play so I should be over it… but I've been his younger sister longer than any of the other things."
She continued her message that can be read as, "His professionalism is unparalleled. I'm super excited for him. Can't wait till he blows everyone away. And irritates them a little with his properness (HE REFUSES TO TELL ME ANYTHING ABOUT THE FILM. SO IRRITATING. I WANT INSIDE SCOOP) and then I can go to set and embarrass and trouble him! #proud #excited #bigbrother #firstday #[email protected]@t."
In the image, the star kid can be witnessed sitting on her knees and presenting Junaid, a bunch of flowers.
As per reports, Junaid will make an entry into the Hindi film industry with a movie named Maharaja. Helmed under the banner of Sidharth P Malhotra, the film Maharaja is reportedly based on 1862's Maharaj libel case. Junaid will be seen donning the role named Karsandas Mulji.
Junaid has been a part of theatre for some time. He also assisted ace film maker Rajkumar Hirani on PK. Ira, in the meantime, was in the news when she made her relationship official with her fitness trainer beau Nupur Shikare by making a special Insta post. Sharing a bunch of pictures, she wrote: "It's an honor to make promises with and to you."