Abhishek Gives Witty Reply To Twitter User Asking For A Reason To Watch 'The Bigg Bull; Netizens In Awe
Get Daily Updates In Email
Published by Ricky Tandon on 06 Apr 2021
Bollywood hunk Abhishek Bachchan's new film 'The Big Bull' is ready to reach audiences on April 8, 2021. The film is not releasing via theaters will get released through the OTT platform Disney Plus Hotstar.
At the moment, the actor is busy promoting his movie on social platforms. After the film's promo release, the netizens are busy comparing the movie Big Bull and Pratik Gandhi starrer web series, Scam 1992.
On April 05, a Twitter user questioned Junior Bachchan to share a reason that why he should watch The Big Bull as he has already seen Hansal Mehta's The Scam 1992. "I did watch #Scam1992 already, tell me one reason to watch #Thebigbull again. @juniorbachchan," a Twitter user wrote, tagging Abhishek.
In his reply to the web user, Abhi gave a funny response and penned, "I'm in it" with a wink and a laughing emoji.
Twitteratti applauded Abhishek for his reply. "After this reply we have to watch it #TheBigBull," one wrote. "Savage at par… I just love your witty answers sir.. Lot to learn," another wrote. "AB in the house…the man who chose to be polite even he has many reason to be as arrogant as anyone can be…Real Star," a third wrote.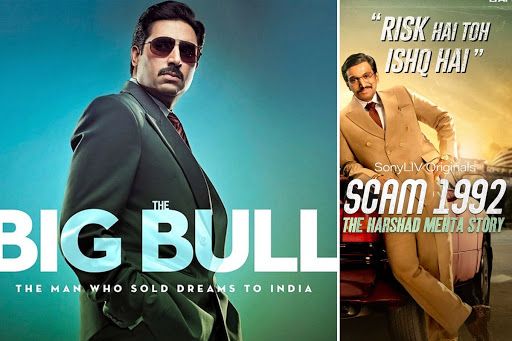 The Big Bull and Scam 1992 get inspired by Harshad Mehta's life. In the nineties, Harshad Mehta hit the headlines for being the brain behind one of the leading stock market scandals in the past. Though a lot of links to both the plots, the producers of the movie stated that the movie is produced with a different attitude.
The movie is based on the life of Indian securities broker Harshad Mehta, who had done a lot of financial offenses. The tale circles around the nation's major securities scandals that took place in the year 1992. It is helmed under the banner of Kookie Gulati and is co-produced by Kumar Mangat Pathak and Vikrant Sharma. The movie will also feature Illeana D'Cruz, who dons the character of Abhishek's love interest. The movie is all set to release on Disney+Hotstar on April 8.