Alia Bhatt spends her Sunday relaxing with sister Shaheen Bhatt and her 'muse'
Get Daily Updates In Email
Published by Vidhutma Singhania on 23 Nov 2020
After a long and tiring week all one wishes for is a relaxing and long weekend. While everyone's weekend goals varies from lying on the sofa with a good book or a movie to partying as much as possible.
Even celebrities know that it's healthy to take a break once every while, so that they can channel their energy towards productivity in the upcoming weeks. They as well need to laze around with their loved ones once in a while. And that's exactly what Alia Bhatt was seen doing this last weekend.
Alia's weekend was every way aesthetically beautiful and soothing to have a peek at. She spent the most relaxing hours with her lovely sister Shaheen and little furry friend Edward.
Alia Bhatt has been working constantly on her upcoming movies decided to take a break to relax with her loved ones. And she enjoyed her time doing so, she decided to share a few glimpses with her fans through her social media handle. It was on November 22, 2020, when the actress took to her social media handle and shared a sun kissed and adorable picture.
In the picture, we can see her in a simple white tank top, as she lovingly cuddles her cat, Edward. In the caption to the picture, she reffered to her furry friend as her muse, she wrote "my muse."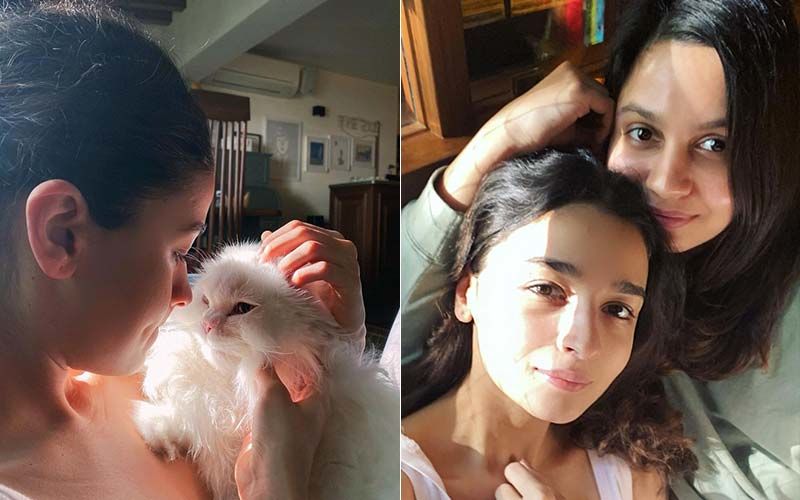 Apart from this, actress's sister, Shaheen took to her Instagram handle and shared a picture with Alia giving us a glimpse of their love filled weekend. In the picture, she can be seen posing with Alia, and revealing the funny reason for that specific post in the caption.
She explained how you spend your lockdown and make it look stylish. She wrote "How to conceal lockdown chin tip #27: Use the top of your sister's head as a cute and stylish diversion."