Alia Bhatt is superb excited to work with her dad in the remake of Sadak 2
Get Daily Updates In Email
Published by Shifa Naz on 26 Sep 2018
The cutest Bollywood actress Alia Bhatt, who is super excited to be directed by her filmmaker father Mahesh Bhatt in Sadak 2, reminiscent with her childishness when she watched the movie as a star kid.
"I was very young when I watched it. At that time, I was shocked to see my mother (Soni Razdan) getting thrown out of a window in one of the scenes,it created an heartfelt impact on her mind."
She told, "I had paused that scene, and asked daddy how could he do that — throwing my mother out of the window. For I don't think I had the sense to grasp the fact that it was just a movie — she was not really thrown out…," said Alia recalling Sadak that starred her half sister Pooja Bhatt and actor Sanjay Dutt in the lead roles.
She also has evocative memories of the character and images, essayed effectively by Sadashiv Amrapurkar.
This year on September 20, Mahesh Bhatt's birthday, Alia posted a heartfelt message on Instagram announcing the project Sadak 2 which will have both the sisters, Dutt and Aditya Roy Kapoor and would be helmed by her father.She has also said that "Its her dream that will come true with this movie".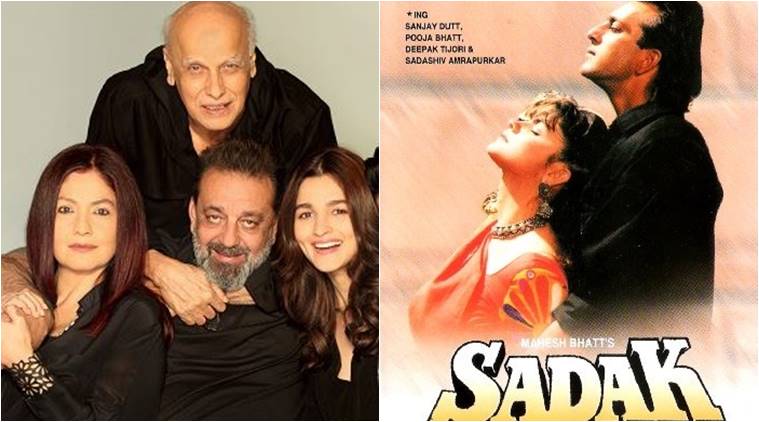 "My father is directing me, so one cannot ask for a better thing. Media people always used to question me that when I will work with my father, so now finally I am working with my father and it's going to be very special." She is also a bit scared that if her dad in some step will find her mistakes,so she has to be more careful and alert of what she is enacting.
The sixth season of Karan Johar's talk show Koffee with Karan is going to get started and its been final that Jahnvi is coming up with Arjun Kapoor another pair of Saif Ali with daughter Sara Ali Khan will make their presence in the show but Alia has always come to Karan's show and this time when asked to her about her appearance on the show she said :"Of course I will come… Why I shouldn't come on the show?"
There are reports that Alia will appear with rumored beau Ranbir Kapoor, but we are not sure till now…
In the interview, it was asked that who she will come up with on the show, she said: "That I don't know. I am sorry that I can't reveal this right now."