Anita Hassanandani Lovingly Rocks Her Jaan 'Aarav' In Her Lap, Industry Friends Call It Cutest
Get Daily Updates In Email
Published by Ricky Tandon on 08 Apr 2021
As a new mommy, well known TV actress Anita Hassanandani is making the most of each and every moment. Yesterday, she came up with a delightful video recording in which she can be seen rocking the love of her life, Aaravv, on her lap.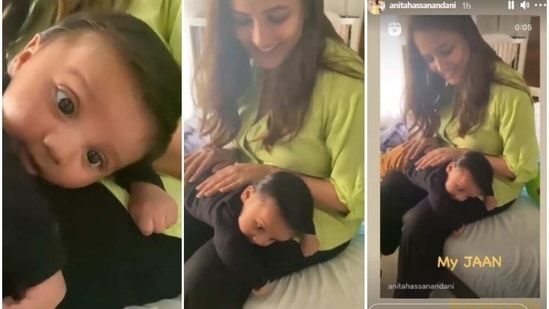 While posting the video recording, an elated mommy penned, "MyShonnniiiiyaaaaaa Who's gonna be two months in 2 days? MyJaan MyBuoy Mylove @aaravvreddy."
The cutesy baby is seen enjoying the same as her sweet mom pats and rocks him tenderly.
The post turned viral as it got love from all the sides. Anita's industry friends also liked and loved the video. YRKKH fame Hina Khan dropped several red hearts emojis, whereas Bigg Boss fame Sara Khan penned "cutie". Well-known character actor Neena Kulkarni stated, "He's started looking like you Ani️…a lil bit…oh how I wish I could come n hug both of you."
One of Anita's fans penned: "He is so adorable so cutie." Another one said: "So cute baby." A lot of others just wrote "cute" along with red heart emojis in the comment section.
Anita and her hubby Rohit Reddy embraced parenthood in the month of February. The couple keeps sharing the adorable pics and videos of their little munchkin. The proud and happy mommy and daddy have also made an independent Instagram account for their son, Aarav.
Anita once kidded how she was all set for another baby. In an Instagram post, she penned: "Kinddaaa missing the belly …Not that I don't have one at present… it's just not this cute Ok im already ready for another baby @rohitreddygoa *ROHIT REDDY GOA just UNFOLLOWED ANITA H REDDY* @ruchitakjainphotography Outfit @dramebaaz_by_rikita PR stylist @dinky_nirh Shoot stylist @mitsamby."
She also revealed how Rohit has been a practical father to Aarav and he has been sharing all the duties with her. In one of her posts, she penned that since they both are working parents, it is very important that both of them share their duties equally with the aim that it doesn't fall upon just one of them.