Anita Hassanandani Posts A Cute Video Singing 'Lakdi Ki Kaathi' For Her Baby Boy, Aaravv
Get Daily Updates In Email
Published by Ricky Tandon on 27 Mar 2021
Anita Hassanandani has come up with a cutesy video recording of her baby boy Aaravv Reddy on Instagram today (March 26). The TV starlet is seen enjoying with her cutie pie while the most melodious song Lakdi Ki Kathi is going on in the background. The actress can be witnessed crooning the super special and most loving song for the love of her life, Aaravv.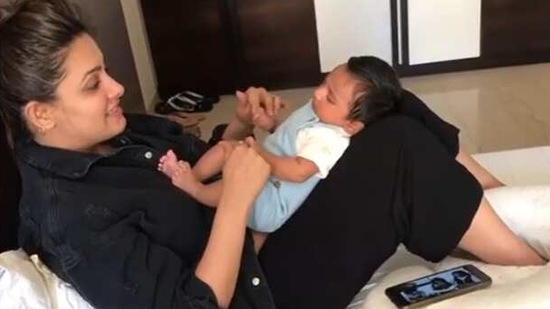 While sharing the video, an elated mommy Anita Hassanandani captioned it, "Who loves this song? MyJaan @aaravvreddy (sic)."
Anita Hassanandani's besties from the TV industry liked and praised the video. They showered their love in the form of special comments. Yeh Hai Mohabbatein stars Karan Patel, Neena Kulkarni Aditi Bhatia, shared their valuable comments on the post.
Aditi wrote, "Soooooo cute (sic)," along with several red heart emojis. In the meantime, Karan disclosed that Lakdi Ki Kathi is his darling baby doll Mehr's favorite as well.
Recently, the actress posted a throwback pic with her spouse Rohit Reddy. In the image, she can be witnessed exhibiting her cute baby bump. She captioned it, "Kinddaaa missing the belly … Not that I don't have one at present… it's just not this cute. Ok im already ready for another baby @rohitreddygoa *ROHIT REDDY GOA just UNFOLLOWED ANITA H REDDY" (sic)."
In an Instagram post, Anita disclosed that from the time when Aaravv was birth, he has turned out to be the 'centre of (her) world'. In another post, she could be seen holding him in her arms, as their dog stood at the back. "My oh so perfect life in a selfie. MyJaans TrueLove MySons," she wrote.