BB14: Gauahar, Hina Lose Control On Sid; Contenders Trying To Show Best In 'Game Over' Task
Get Daily Updates In Email
Oct 20's episode of the controversial reality shows Bigg Boss 14 was full of drama as the viewers saw not only the spat between contenders during the mission but also between the three toofani seniors including Sidharth Shukla, Gauahar Khan, and Hina Khan.
It's truly a vital week for all the Bigg Boss 14 contenders as the outcome of their status will lastly be out. The final verdict will be in the hands of Sid, Gauahar, and Hina Khan. In the meantime, the contestants will have to fight it out in a task and will get divided into a team of three.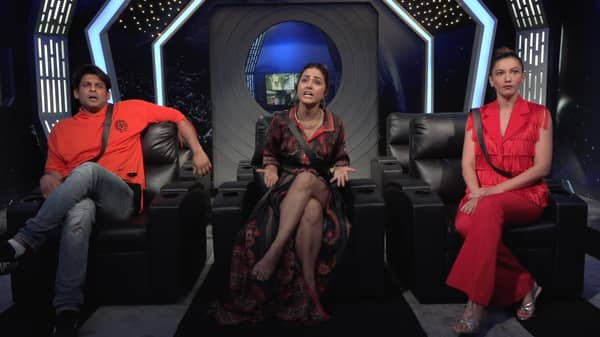 Oct 20's episode of Bigg Boss 14 was super dramatic as the audience witnessed not only the fight between contestants during the task but also amongst the three seniors. In the meantime, Shehzad has been acknowledged as 100% not confirmed contender and was asked by Sallu to stay 'gayab' in the key decision-makers of the house.
Bigg Boss made the declaration to seniors that two squads have not followed the rules while doing the task. Afterward, we saw Gauahar Khan complaining against Sid and told Bigg Boss to share his verdict.
After the task, we witnessed Bigg Boss showcasing the task recording to the Toofani Seniors and afterward, the three entered into a heated spat.
While we saw Hina Khan as the winner, Gauahar said all are cheaters. While reading for the new task, we saw Nikki Tamboli trying to divert Jaan by getting romantic.
https://www.instagram.com/p/CGkJ-jghXUI/
Then, we witnessed Eijaz Khan getting ready for the mission whilst Jasmin confused her. While readying for the mission, we saw Hina Khan and Gauahar joining hands against Sidharth Shukla and planned that they will press his timer.
Just before the mission, we see all the teams discussing their plans to gain the task. Eijaz Khan explained the Game Over task and told that whichever squad will lose, will be excluded from the show. Later in the morning, we see Bigg Boss telling contenders that today will be game over for some of the seniors and freshers.
Published by Ricky Tandon on 21 Oct 2020