BB14 Oct 26 Highlights: Kavita Kaushik Becomes A Strict Captain; Jaan, Nikki & Rahul Get Nominated
Get Daily Updates In Email
Kavita Kaushik got disappointed with the clutter in the house and told housemates to follow the regulations of the BB house. She also clarified that those who will break the rules will get punished hard. Shardul Pandit became the first to break the rules in the smoking zone.
Kavita asked the contenders to ink a deal that there will be no fierceness encouraged by anybody in the BB house and those who will do it, one and all will stand in harmony in contradiction of that individual. Everyone settled to her point.
Nikki Tamboli pushed Rubina to clean the bedroom. Captain Kavita asked her to do her duties but the latter said that Nikki threw tissues on here and there to make her irritated. Kavita made attempts to solve it out but Abhinav and Rubina crooned at the top of their voices to overlook her. Later, Kavita asked her to clean the room and asked Nikki to do her bed.
In the morning, housemates got out of their beds with the tunes of 'Mukabla' song and Rubina, Nikki and other dance shake their legs happily.
Jasmin Bhasin and Rahul Vaidya had a heated spat over chapatis and rice made in the Bigg Boss house. Bigg Boss made a declaration about the nomination task:
Rubina Dilaik nominated Rahul Vaidya and Nikki Tamboli
Jasmin named Rahul Vaidya and Jaan Kumar Sanu
Jaan Kumar nominated Rahul Vaidya and Nikki Tamboli
Shardul Pandit nominated Nishant Malkhani and Rubina Dilaik
Rahul Vaidya nominated Rubina Dilaik and Jaan Kumar Sanu
Nishant named Rahul Vaidya and Nikki Tamboli
Nikki Tamboli named Nishant Malkhani and Abhinav Shukla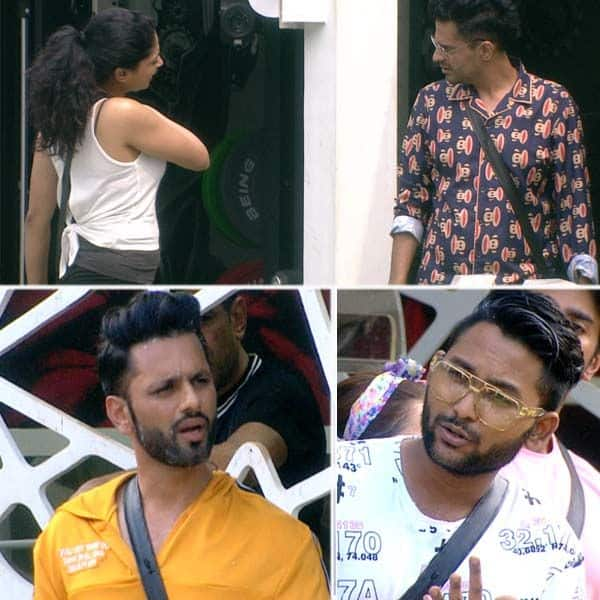 Abhinav Shukla nominated Nikki Tamboli and Rahul Vaidya
Naina Singh named Nikki Tamboli and Jaan Kumar Sanu
Eijaz and Pavitra Punia, who are in the red zone, named Rahul Vaidya.
Nikki Tamboli, Rahul Vaidya, Jaan Kumar, Pavitra Punia and Eijaz Khan got nominated. Besides Pavitra and Eijaz who were already in the red zone this week, this week's nomination had Rahul, Nikki, Pavitra and Jaan in danger zone.
Nishant, Rubina, Pavitra, and Jaan criticized Rahul for his so-called 'nepotism' statement. Rubina said that it is just an mistreatment to a performer and Pavitra stated that he must not have used this word in this house.
Published by Ricky Tandon on 27 Oct 2020