Genelia D'Souza Posts An Inspiring Video; Says 'Will Try N Try Till I Succeed'
Get Daily Updates In Email
Published by Ricky Tandon on 10 Mar 2021
Actress Genelia D'Souza is bold, talented, obedient, multi-talented, caring and above all a loving person. She is bold enough to confront all types of ups and downs. Recently on the big occasion i.e. International Women's Day (March 08), Mrs. Deshmukh made her mind to celebrate the same. Yes, the mother of two commemorated her failures.
On International Women's Day, the actress has come up with a video recording in which she can be witnessed talking about her injury she suffered while learning the new skill of skating.
At the time of sharing the video recording, Genelia penned: "My Recovery Pawri Story. A few weeks ago I decided to learn skating because I thought I could be inspirational and great company to my kids.. I envisioned putting out a really cool video on the gram once I learned it…"
In the said video, taking hints from the trending 'Pawri Ho Rahi Hai' video, Genelia can be seen doing the same while explaining her 'great fall'.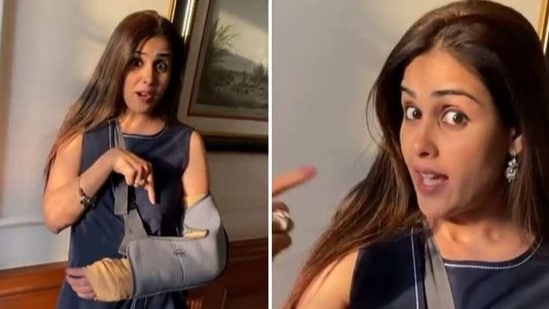 "Alas!!!! But I thought I should put this out in any way because the gram is always about success stories but how about the times we fall?? "sometimes you got to fall before you fly" I hope I find it in my heart to rise despite my fall but what's important is I TRIED and I will try n try till I succeed ( hopefully with no more falls) Happy Women's Day all you beautiful women," she added.
The video recording showcased Genelia, in a skating kit, taking off from a point in a room. A voiceover has a male training her. As she travels, she hurries up and after completing a small distance, falls backward.
As per Genelia D'souza, since the Instagram is always crammed with triumph stories, she decided to share her story as 'sometimes you got to fall before you fly'. In the video recording shared by the actress, she can be heard saying, 'Yeh main hoon, yeh mera staking hai aur ye hamari recovery ho rahi hai.' LoL. That's cool, isn't it?