Hina Khan Runs To Escape Media At Mumbai Airport, Fan Says 'Bhag Hina Bhag'
Get Daily Updates In Email
Published by Ricky Tandon on 15 Apr 2021
Popular actor Hina Khan had to run away from the paparazzi at the Mumbai airport on Tuesday. In a recent video that was shared on a paparazzo account, we can see Hina Khan trying to run away from the paparazzi. Hina Khan was wearing a black top and black pants along with sunglasses and a mask. The actor tried to hide her face from the cameras, as the photographers were calling out her name. With no other options there, Hina Khan decided to run and very soon enters her car, which was waiting for her.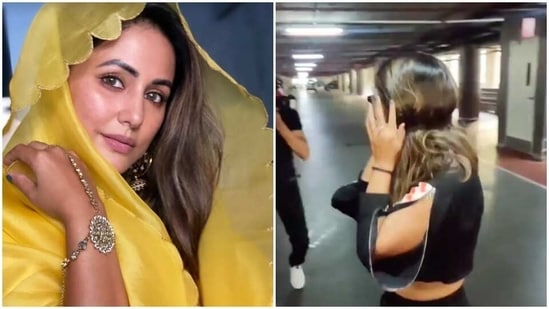 But it was found out that Hina Khan took all these happenings in a funny spirit and she was later seen waving to the paparazzi from her car. The actor also reposted the video of the incident on her Instagram Stories with laughter emojis. Reacting to the video, the actor's fans asked the photographers to give some space to the actor. One of the fans wrote "So cute…Give her a space… maintain social distancing guys,". Another fan was seen writing, "Bhag Hina Bhag cutie."
Hina woke up bright and early, on Wednesday, to wish her fans Ramadan Kareem through her personal Instagram handle. The famous TV actress also shared her picture in a yellow outfit as a bid to celebrate the festival. While sharing the picture, she captioned it, "Ramadan Mubarak".
Hina Khan had two releases in the year 2020, and the projects included movies such as Hacked (2020) and web show Damaged 2 (2020). Both the movies were shot in pre-pandemic times. In a recent interview, she revealed that she is looking to work more and improvise herself.
"I believe that I lost out on many opportunities, with regards to meeting good people, social gatherings and network. Not meeting people, like we did earlier, makes a lot of difference," she said.