Mahhi Can't Hold Back Tears As Baby Tara Cries Seeing Her Leave At Airport; Papz Help Cheer Her Up
Get Daily Updates In Email
Published by Ricky Tandon on 07 Apr 2021
TV host Jay Bhanushali got clicked at the Mumbai airport on April 6 along with his cute baby doll Tara Jay Bhanushali. Jay Bhanushali reached the airport to see off his actress wife Mahhi Vij as Mahhi is traveling to her homeland i.e. Delhi. But, the media people caught a really cute and emotional moment that took place between the adorable mom and daughter.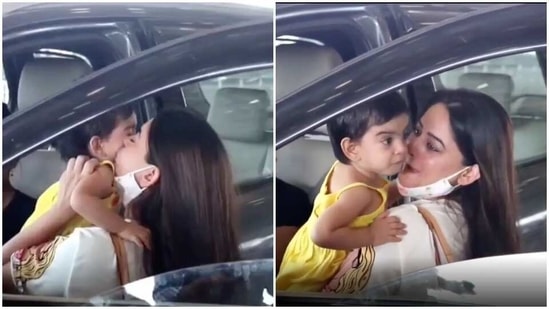 After getting clicked with her darling baby, Mahhi put Tara back on the lap of her nanny who was sitting in their car. Jay was clicked seated on the driver's seat and the cutie pie was seen crying, holding out her arms for her mom.
Then, the crying Tara called out for her 'mom' as the actress went back to the vehicle and kissed the baby. Shortly, Mahhi also could not put control over her tears and she started crying too. She opened the door of their vehicle and held the little one and hugged her tight for some time. After Tara got to calm down, Mahhi was able to leave.
Some of the media people, who also turned emotional, tried to calm down Tara. They told Tara that her mom will be back shortly.
Recently, the proud mom and dad shared images of Tara in a cute white sharara. Along with the pics, Mahhi captioned her post, "We made a wish and it came true (papa, mumma, abba, naana, naani) (sic)."
Mahhi Vij and Jay Bhanushali got married in the year 2010. They welcomed Tara on August 21, 2019. In the year 2017,
Mahhi Vij and Jay Bhanushali had also adopted their caretaker's children, Khushi and Rajveer, and decided to raise them as their own.
"A lot of you have been questioning, a lot of you have been assuming, a lot of you have been writing anything and everything and it's just FAIR! Yes we are parents, FOSTER Parents! Tara entered our lives as a beautiful blessing but that doesn't change our feelings for Khushi and Rajveer," she wrote.