Malaika Boldly Confronted The Criticism For Being Called 'Buddhi' For Dating Arjun
Get Daily Updates In Email
Published by Ricky Tandon on 09 Apr 2021
Film stars and real-life lovers Malaika Arora and Arjun Kapoor made their love relationship public in the year 2019. The two also kept their love kinship under wraps for a long time. While their buffs and admirers couldn't be contented to see this pair relishing the company of each other, there is no shortage of criticizers who got troubled with the point that Arjun is around 11 years younger than his ladylove.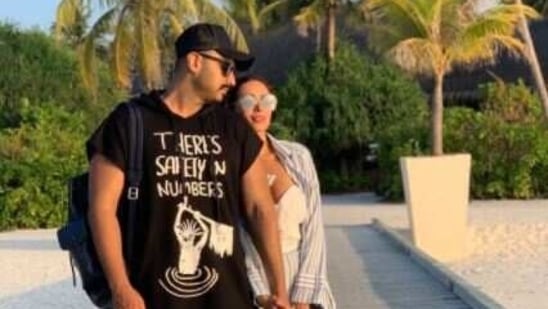 When they made confirmation about their love, Malaika had to confront condemnation from all the sides. Some people called her desperate whereas some of them called her 'buddhi (old woman)' for coming into a love relationship with a younger man.
In an old media talk, Malaika had stated that when her marital relationship with Arbaaz Khan came to an end, she was not at all sure if she wished to be in another love relationship as she was afraid of being heartbroken. "But I also wanted to be in love, nurture a relationship, and this new me gave me the confidence to put myself out there and take a chance. I am so glad I did," Malaika told the media people.
When she was questioned whether the age difference between the two people makes their relationship different, Malaika stated that it didn't trouble her and Arjun, but the social order is different stuff all in all.
"Unfortunately, we live in a society that refuses to progress with time. An older man romancing a younger girl is hailed everywhere, but when the woman is older, she's called 'desperate' and a 'buddhi'. For people who think like this, I have just one line: Take a flying f***," she said.
Mala also shared how her loving son Arhaan had responded to the love relationship. Malaika stated that she believes the best method to approach any condition is with morality. It's significant to tell your loved ones what's going on in your life and then give them some time and space to comprehend and process things.
"We have had that conversation and I am so glad that everyone is in a much happier and more honest space today", she added.