Nick Says He Felt 'Disconnected' At Time PeeCee Flew Off To Germany After Lockdown
Get Daily Updates In Email
Well-known singer Nick Jonas has remembered a special moment linked to his wife and international actor Priyanka Chopra Jonas. The star hubby has recalled that when his wifey was busy filming in Germany, he was not feeling comfortable. He said that at that time, PeeCee was filming for 'The Matrix 4.' Nick stated that he felt 'disconnected' when she was away.
During the same media talk, Nick also talked about how he got down to making his forthcoming album, Spaceman.
After the pandemic linked lockdown relieved in the US in 2020, Priyanka went to Germany and filmed her remaining part of The Matrix. At that time, Nick was in the US. Even though PeeCee and Nick reunited shortly, the ace singer disclosed how he sensed when PeeCee was away.
"You know, I sort of started writing this record back in July. My wife was over in Germany, finishing up this little movie called The Matrix and I was like 'You know, I feel very disconnected from the world, first of all, and now my person.' And I just dug in writing it with Greg Kurstin (American record producer) and Mozella (American songwriter)," he said on The Tonight Show Starring Jimmy Fallon.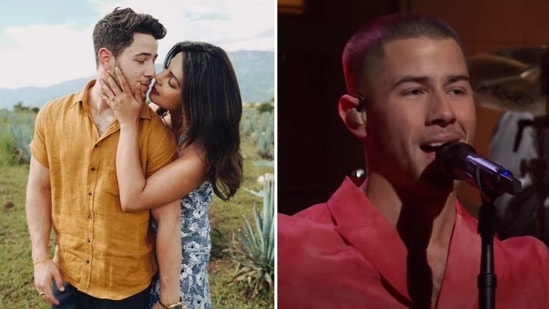 "This year of being sort of disconnected from reality, disconnected from the world, and feeling like we're on our planet. And, you know, also obviously missing her at the time, as well, and then reconnecting with her. And then the main theme from this album, I think, is more than anything, is just about hopefulness for the future and seeing a brighter day ahead," Nick elaborated.
In an earlier media talk, Nick stated that a number of songs on the music album are just like love letters to his adorable wifey Priyanka. "Most of the songs are pretty much just love letters, which, when I can't articulate the way I feel with my words with no music, I go to the studio. And I'm grateful to have that because it makes her happy, and that's most important," he said.
Nick recently rolled out the titular track of the album that he also performed at the Saturday Night Live event. He was also the host of the same show. Spaceman will reach the web on March 12.
Published by Ricky Tandon on 04 Mar 2021