Ranbir Kapoor perfectly impersonates Alia Bhatt and we can't stop going LOL
Get Daily Updates In Email
Published by Shifa Naz on 04 Oct 2018
Ranbir and Alia Bhatt are setting the romance in the B-town with their love, as the rumors are flying that the duo is dating each other. The Brahamastra actors are making every limelight to just shower on them with their movie as well as the relationship. They have been spotted in many of the award shows and functions together and the conjectures.
Well, on the previous seasons it was seen that Ranbir in one of the part, we can see him imitating Alia Bhatt and Ranveer imitating Sonam Kapoor, the emulation was quite similar as Ranbir really acted the same as Alia does.
https://www.instagram.com/p/BoQgKGVhNoP/?taken-by=myranveersingh
Ranbir in an interview with GQ confirmed dating Alia and opened up about his 'new' relationship he said, "It's really new right now, and I don't want to overspeak. It needs time to breathe and it needs space. As an actor, as a person, Alia is- what's the right word- flowing right now. When I see her work, when I see her act, even in life, what she gives is something that I'm aspiring too, for myself."
In the previous season of the show, Alia said, "I remember the first time I spoke to Ranbir. You (Karan Johar) called him up when Rockstar just released and you said, 'Here, talk to Ranbir. Tell him how much you love him'. And I spoke so much rubbish. I was just talking non-stop, and he was like, 'Yeah, that's very nice, Alia."
On the further note, she added, "Obviously, I have hung out with him after that, and I still think he is really adorable. And I still want to marry him". She responded, "Everybody knows my plans. I have gone on record and I have said it. I'm very open about it except to Ranbir."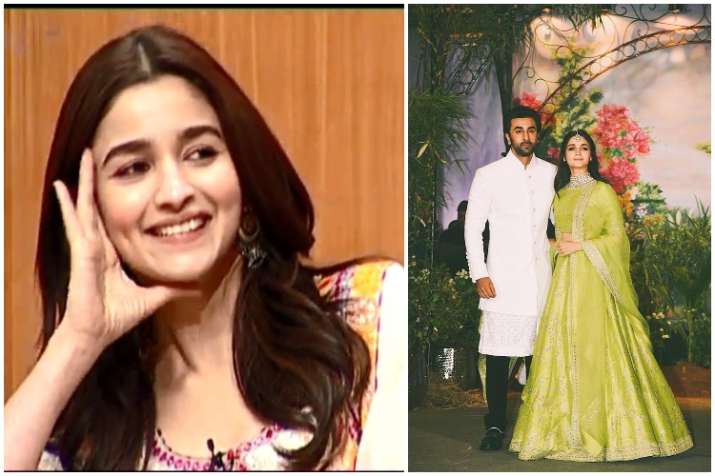 Once speaking to Hindustan Times, Alia said, "I would definitely say that I'm fascinated by the kind of person he is with his vibe and behavior. He is a really rare person and in the years that I have been alive, I haven't seen many such people".
So what're your views on this? Tell us in the comment section.