Ranbir amd Arjun spotted wearing amazing white sneakers and its price will make you astound
Get Daily Updates In Email
Published by Shifa Naz on 30 Sep 2018
Bollywood stars are always in limelight, even a slight action taken by the celebs brings them into hearsay. From cars, clothing to accessories, B-Town celebrities have a class and style and it requires a lot for them to maintain themselves.
This time we are astonished by Ranbir Kapoor's shoes…Yes you heard it right, Ranbir wore a pair of shoes and the sneaker does not at all cost a dime to him.
Ranbir recently was caught in cameras wearing the sneakers which are into the limelight and has made the sensation with its price on the internet. Along with Ranbir, Arjun was also seen putting on the same brand shoes named as 'Off-White' and when we came across the cost of Ranbir Kapoor and Arjun Kapoor's similar white shoes, we were stupefied.
Courtesy
Ranbir who recently spotted wearing a cool blue tracksuit, pairing it with a black cap and a pair of white shoes with a zip tag attached to it. The zip tag on his shoe was something which is getting in trend now. And when we found from the resources that it's not the zip, rather the price of the shoes are worth knowing.
The white sneakers worn by Ranbir Kapoor were from Nike X Off-White, the zip tag on the same was by Virgil Abloh. For the uninitiated, Virgil Abloh is an American Fashion designer who has been the artistic director for Louis Vitton's menswear. Finally, revealing the amount of those white sneakers, they cost approximately Rs 2,74,691. Yes, that's the price of those eye catchy shoes.
The buzz of the shoes has taken the internet on fire and made us rethink about how lavishly Bollywood stars spend on themselves. Arjun Kapoor also wore the same shoes and he looked amazing in blue trousers and a black T-shirt with those pair of shoes.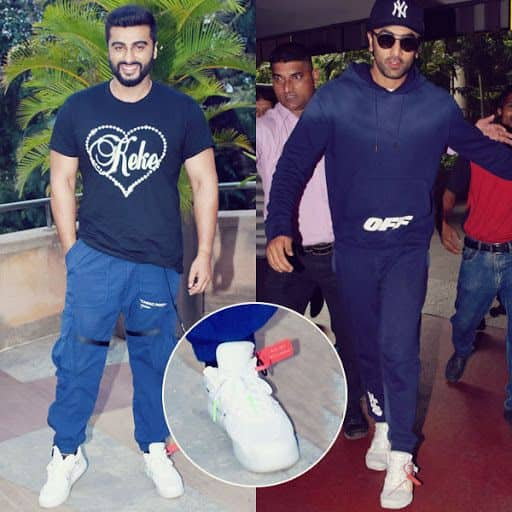 For more Bollywood news keep visiting Laughing Colours.