Helicopter Eela: Ruk-Ruk song got rejuvenated with the quirky foot-taping steps of Kajol
Get Daily Updates In Email
Published by Shifa Naz on 26 Sep 2018
It's always delightful watching the reanimation of the old songs and movies and this time the makers of Helicopter Eela have come up with the remake of 1994's iconic song Ruk Ruk Ruk from Vijaypath which starred Ajay Devgn and Tabu.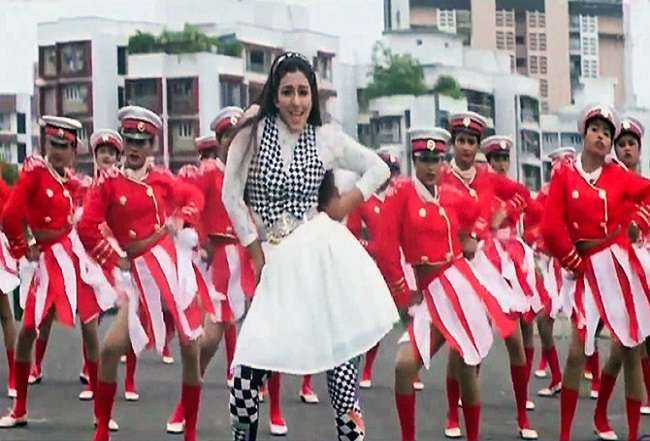 The new Ruk Ruk has Kajol dancing on hubby's song. It's a 3-minute 20 seconds song shows Kajol, who wants to be a singer in the film, stepping in as a dummy singer and later goes into her imagination grooving to the foot-tapping number and dancing her best just rejuvenates the old Ruk-Ruk song.
The revamped peppy number is crooned by Palomi Ghosh and is composed by Raghav Sachar. The song shows Kajol changing costumes in changing frames and dancing her heart out, she looks superbly beautiful in the song and the dresses she is wearing up in the song are also pretty eye-catching.
Courtesy
Talking about the recreation, a few days back, Tabu had spoken to the reporters and said, "It's really nice and sweet. Kajol is so good, she's absolutely superb in it. This Ruk Ruk is new and fresh. They didn't try to recreate or revamp the track, it's completely seamless. I love the 'so sexy' in between, too," she laughs. Tabu adds that she's happy the song has stayed within the 'same group'.
"It started with Ajay (Devgn) and me and now, it's back to Kajol. So it's full circle for Ruk Ruk. It's good that it remained in the same category. The soundtrack was one of Anu Malik's best works."
Courtesy
The movie was about to release on 14 of September but deferred and finally gets its releasing date on 12th October. Based on the Gujarati play titled Beta, Kaagdo by Anand Gandhi, the story of Eela revolves around a single mother and an aspiring singer (played by Kajol) and her relationship with her son.
This is all about the movie, well I hope you liked our article, for more catchy news in Bollywood, stay connected with Laughing Colours.