Salman On Priyanka's Exit From Bharat: It Must Have Been A Very Difficult Decision For Her
Get Daily Updates In Email
Published by Vijay Sisodiya on 07 Sep 2018
The news about Priyanka Chopra making her big Bollywood comeback with Bharat had made her fans rejoice. The makers and Salman Khan too welcomed her in the movie with a tweet which made all of smile as well as laugh as it was filled with humor.
He wrote, "#Bharat .. welcomes u back home @priyankachopra. See u soon .. By the way humari film Hindi hai 😉 . @atulreellife @aliabbaszafar #Eid2019″
Priyanka who was already very excited about bagging such a big project gave a fantastic reply to Salman's tweet which won our hearts. She wrote, "UP Bareilly की पली बड़ी हूँ जनाब…. #DesiGirl forever. Very happy to be a part of #Bharat and see all of u on set!! @beingsalmankhan @atulreellife @aliabbaszafar #Eid2019″
Looking at Salman and Priyanka's Twitter banter, fans couldn't stop rejoicing and were looking forward to seeing them dazzle on the big screens.
However, their happiness did not last long as, after a few months of this announcement, there came the news about Priyanka exiting the project. However, the makers remained tight-lipped and were waiting for the right time to make an announcement.
Finally one day, Ali Abbas Zafar confirmed the news and shared it on Twitter. Since then, a lot has been spoken about how Salman was miffed with PeeCee for walking out from the film at the last moment due to her engagement with Nick Jonas.
But squashing all the reports, Salman in his recent media interaction revealed that he holds no grudges for what happened and also wishes Priyanka best of luck for her future projects. However, the superstar had a lot many things to say about this whole scenario.
He started off saying, "She (Priyanka) had a reason to do that. It's just that the project got stuck. Had we known earlier, we could have worked it out better. She was getting engaged and I told her, 'If you are getting engaged, what's the need (of exiting the project)?' Then she said, 'Shaadi karni hai' to which I said 'Toh shaadi kar lo'."
He further added, "Priyanka's work was for 75-80 days. Shaadi ke liye chaar din ka preparation, aur chaar din ki shaadi, aath din ke andar ho gayi aur phir uske baad honeymoon. So, we said we will work it out. But she was very clear that she didn't want to be a part of the film."
The Dabangg star further revealed that PeeCee was very keen on working in this film. He said, "It must have been very difficult for her to make this decision because she was very keen to work on this project. She has called up Arpita a thousand times, saying, 'I want to work with Salman'. She has even called up Ali (Abbas Zafar, director) and told him, 'See if you can get me something in this film'."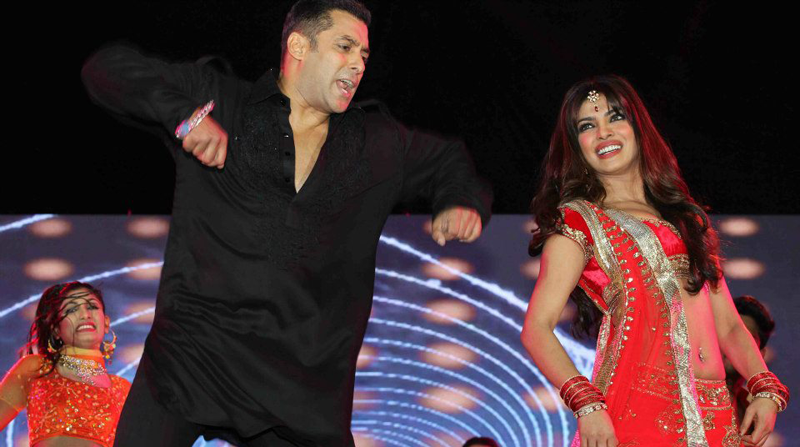 Salman also said that he doesn't know about the real reason behind her exit from the film. "Not doing this had to be because of the wedding or because she doesn't want to work with me anymore. It could also be because she doesn't want to work in humari industry (Bollywood) or wants to work only in Hollywood. Whatever she wants to do, I wish her all the best in life. We are glad that she is engaged and happy."
Well, alls well that ends well!