Shakti Kapoor spotted with singer Shivendra dahiya who plays cameo in The Journey of Karma
Get Daily Updates In Email
Published by Shifa Naz on 17 Oct 2018
Shivendra Dahiya who is entering and making his steps in Bollywood with the hit song 'Parinde' sung by legendary singer Sukhwinder and the actor plays a cameo in Surya Entertainment film 'The Journey of Karma'. The film stars the legendary actor Shakti Kapoor and Poonam Pandey as the lead actors in the movie. Shivendra in regards to the song said, "I initially started working as the Project Director of the movie includes everything from the supervision to behind the camera right from choosing the subject scripting, and storyline. He also shared that working with the legendary actors taught him a good lesson and it was a good learning experience with them."
And finally, he got the chance to come and work in front of the camera and the songs of the movie is sung by Sukhwinder Singh, he said, "It was a very motivational song for me, being my first number in the industry, we made sure it features as a typical Club song and party anthem of 2018. It has very deep & meaningful approach to its lyrics & its powerful appeal made me prepare even harder, It took a total effort of around 20 days wherein I had day & night rehearsals, the only break I got was for lunch and dinner. This helped me get into the right mood. It was a lengthy song but we completed the whole shoot in 2 days."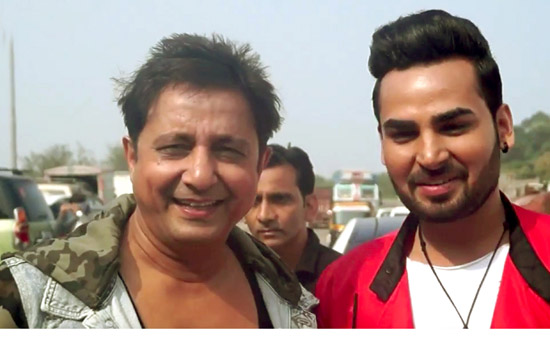 Courtesy
Meanwhile, Shakti Kapoor was seen with the cast of the film at the launching event at Andheri, Mumbai where the music and trailer were launched. Shakti was last seen in the movie, "love U family" after that iconic role the veteran actor will be seen in a totally different role in the Journey of Karma which is produced and directed by Jagbir Dahiya of Surya Entertainment, includes Actress Shravani Goswami who plays the mother of Poonam Pandey in the film.
https://www.instagram.com/p/BocWkFZg4tU/?tagged=thejourneyofkarma
The movie is about a girl who is not so well with her financial matters and stays with her mother. She has her dreams but due to her problems, she is unable to overcome. Meanwhile, Shakti Kapoor enters who fell in love with the girl but due to age bars, he is unable to put his feeling in front of the girl. Shakti is shown in the movie helping her against all her odd situation and protecting his love from the cruel world, but he still can't express his feelings to his love.