Suhana Posts Cute Pic With GFs As She Makes Perfect Use Of NY's Stunning Golden Hour
Get Daily Updates In Email
Once again, the talented daughter of actor SRK and Gauri Khan, Suhana Khan, has come up with a new photograph with her girlfriends. In the said pic, Suhana can be seen giving a selfie pose with her friends during the golden hour.
The photo features Suhana with her locks tied behind her. She can be seen putting on a black shirt and pink lip shade. While getting clicked, she was all smiles for the camera.
On Sunday, Suhana also posted another picture from a bash. The photo showcased her and a friend, giving a pose under deep red lights. "Probably should've worn heels," she wrote with a sad face emoji.
Recently, Suhana went back to New York to continue her studies after spending several months with in Mumbai. She was in Mumbai beaucsue of the worldwide pandemic. The girl has been posting pics and videos about her life in the US on a regular basis.
Recently, she posted some stylish pics with her friends with the caption, "l8r, not. now." In the pics, she was witnessed putting on a two-piece beige bodycon outfit whereas her friends put on black short outfits.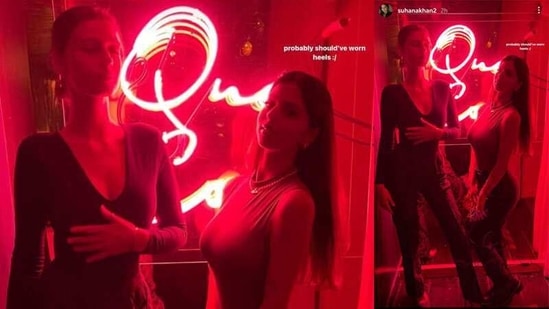 In 2020, the star kid penned a special post on Instagram about how she had confronted the online condemnation for her skin color. She penned: "I've been told I'm ugly because of my skin tone, by full grown men and women, since I was 12 years old. Other than the fact that these are actual adults, what's sad is that we are all Indian, which automatically makes us brown – yes we come in different shades but no matter how much you try to distance yourself from the melanin, you just can't. Hating on your own people just means that you are painfully insecure. I'm sorry if social media, Indian matchmaking or even your own families have convinced you, that if you're not 5″7 and fair you're not beautiful. I hope it helps to know that I'm 5″3 and brown and I am extremely happy about it and you should be too. #endcolourism."
Published by Ricky Tandon on 23 Feb 2021