Times when Kangana Ranaut made headlines for her controversies
Get Daily Updates In Email
Published by Naushin Parveen on 04 Dec 2021
Controversy is that food for Bollywood celebs without which they can't digest their food and their day too is incomplete without it. It is one the major things which keeps the Bollywood on peak in terms of news. And Kangana Ranaut is not new to controversies. She's often in the news for making provocative statements that spark social media trends. From being accused for her remarks against Bollywood colleagues on nepotism to drug dealing to sexual abuse. She has left no nooks or corner untouched in terms of making controversial remarks. Kangana and controversies go hand-in-hand and are complementary and supplementary to each other. Kangana and her feather ruffling statements trend on social media and here are some instances. In May, Twitter suspended her account over a tweet that allegedly incited violence.
                                                                                                                                                                                                                        image credits: Times Now
Bollywood actress Kangana Ranaut's statement on India's hard-won freedom from British colonial rule has sparked a huge controversy.
She said on Thursday that the freedom gained in 1947 "was bheek [a handout] and real freedom was attained in 2014".
A vocal supporter of PM Narendra Modi, she was obviously referring to his victory in the 2014 general elections.
Critics said her comments insulted India's freedom fighters, but some on social media also supported her.
The main opposition Congress party called her remarks "insensitive". In a series of tweets, MP Anand Sharma called her statement "shocking and outrageous" and urged the President to withdraw the Padma Shri award, India's fourth highest civilian honour, which was given to her recently.
Preethi Menon, a leader of the Aam Aadmi Party, lodged a complaint with the police in Mumbai – the city where Ranaut is based – demanding that a case of sedition be registered against her for her comment.
The actress was also criticised by Varun Gandhi, MP for making provocative statements that spark social media trends.
Two Indias monologue
Kangana Ranaut called Vir Das a "criminal" for his controversial comments that the comedian made in a recently released video, I Come From Two Indias. A police complaint has been filed against him. The video was filmed during his performance at the Kennedy Center in Washington DC. To this Kangana took to her Instagram story and said that the statements made by him in the video were generalisations and compared them to controversial comments made by Winston Churchill about the Bengal famine of 1943. Kangana has been famous for her back to back controversial comments and remarks. She was also seen targeting Mahatma Gandhi's mantra of non violence.
                                                                                                                                                                image credits: DNA India
Kangana Ranaut versus Diljit Dosanjh:
When the 'Farmers Protest' was going she termed the farmers as "terrorists" and a police complaint was also filed against her. However, this blatant remark of her raged a Twitter war between Kangana and Diljit. The war started with Kangana tweeting false information about an elderly Sikh woman, accusing her that she is protesting just to earn Rs 100. She even went a step further adding that the same woman had earlier gained popularity as the Shaheen Bagh Dadi, Bilkis Bano. When Diljit proved right things in front of the fans by sharing a video to show who the lady was Kangana called him, "Karan Johar ka paltu". Hearing such baseless remarks against himself, Diljit schooled her by saying that she has done so many films does that mean she too is her directors' "paltu" and the list would be too long if he goes on describing who's paltu is she. He even added that it isn't Bollywood where she will falsely accuse anyone on anything and can incite violence and brainwash people. This is Punjab.

image credits: Times Now
Attack on Hrithik Roshan:
In 2013, while shooting for Krrish 3, Kangana reportedly fell in love with Hrithik and there were reports of the duo dating each other. While Kangana denied the rumour later and since then she has always been seen attacking Roshan. In 2016, Roshan had filed a complaint alleging that someone impersonating him was emailing Ranaut from a bogus email id. The rumoured exes even slapped legal notices back in 2016 on each other and since then there has been infinite controversies between them.
Comparing Mumbai to Pakistan:
Kangana had also made headline when she ended up in a brawl over internet with Shiv Sena leader, Sanjay Raut. She alleged that Raut had threatened her and asked her not to return to Mumbai which made her compare Maharashtra with Pakistan. It all began when Mumbai's municipal corporation had demolished the actor's office structure which according to them was illegal.
image credits: Quora
Kangana Ranaut on Sushant Singh Rajput:
She accused the movie mafia Karan Johar and the whole of Bollywood for SSR's death. When the AIIMS report claimed that the actor died but suicide she got infuriated and wrote, "Young and extraordinary individuals don't just wake up one fine day and kill themselves". She even said that Sushant was ostracized and harassed by 'mafias' which forced him to die.
Accusing Karan Johar of nepotism
Kangana's appearance on Karan Johar's talk show 'Koffee with Karan' had first began the debate of nepotism as the actor had called him 'flag bearer of nepotism'. It was only after the death of Sushant Singh Rajput that took the same debate to another level and her feud with KJo begun.
Drugs test
The actress in a tweet earlier alleged that nearly all of Bollywood is involved in drug use. She requested some of the top stars such as Ranveer Singh and Ranbir Kapoor to take a drug test as it would be inspirational for the youth when their test results prove that they don't consume any drugs.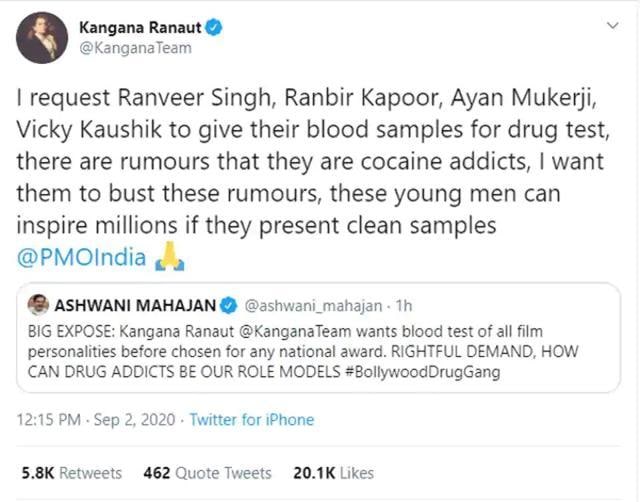 Image credits: Hindustan Times
'B-grade actresses' and 'mafia bimbos'
It is nothing new to learn that Kangana has encountered brawl with Bollywood's leading actresses. Taapsee Pannu and Alia Bhatt has been her favourite when it comes to that. In one of her interviews, Ranaut had Taapsee as 'B-grade actresses'. She had also termed actress Sonam Kapoor and Dia as 'mafia bimbos'.
image credits: The Quint