Urfi Javed lashes out at Chahatt Khanna for shaming her fashion; Urfi targets latter's two divorces
Get Daily Updates In Email
Published by Kamran Shaikh on 08 Aug 2022
A recent attempt by Chahatt Khanna to humiliate Urfi Javed for her clothing caused Urfi Javed to react furiously. In response to Urfi Javed's criticism of Chahatt Khanna and her recent attire, she has caused a stir over social media. In a collage of images of Urfi wearing a neon green dress on a recent outing, Chahatt humiliated her for her clothing choices. Urfi responded by calling Chahatt a hypocrite.
Chahatt shared Urfi's photos on Instagram Stories and wrote, "Who wears this? And on streets? I mean anyone would remove their clothes and media makes them a celebrity? Is Indian media so vulnerable? Its easy to buy this cheap publicity and media, this cheap show you'll are promoting to our generation. Anyone would pay for spotting and do anything or even go nude and you'll will carry? This is obnoxiously sad!! God bless you with some wisdom."
Urfi responded that she does not buy followers. She also mocked her, claiming that she was there for an interview and that the matter was none of her business. She also accused her of being jealous of Urfi's attention from the paparazzi. She chastised her for hypocrisy and asked why she hadn't shared this story about Ranveer Singh.
She also posted a picture of Chahatt Khanna posing her bare back to the camera and targeted Chahatt by questioning if only she is allowed to post such pictures on social media for the entire world to see.  She also claimed that Chahatt is jealous of her and called her a bully.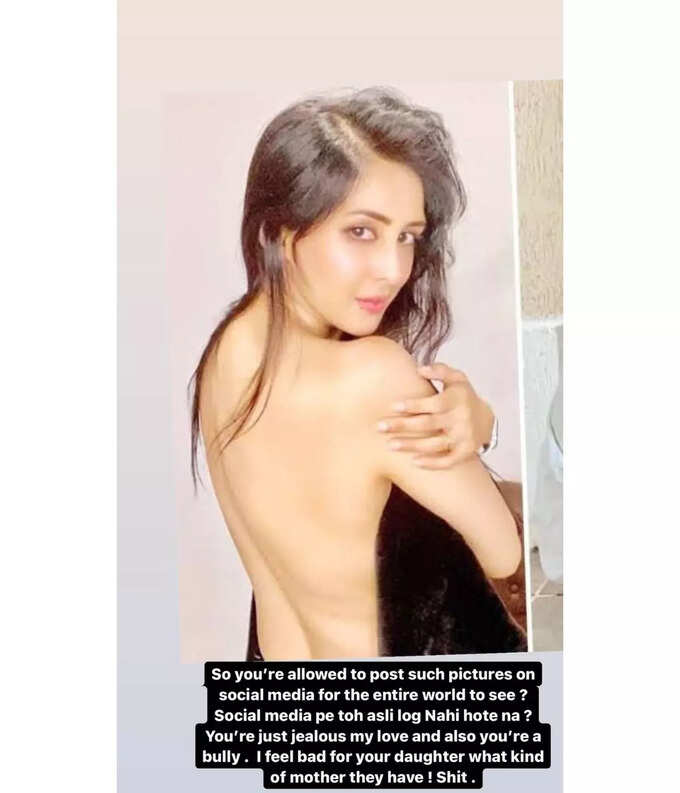 In another story, Urfi said that she makes her own money, unlike Chahatt, who is living on 2 ex husbands alimony. She also intended to refer to her as aunty.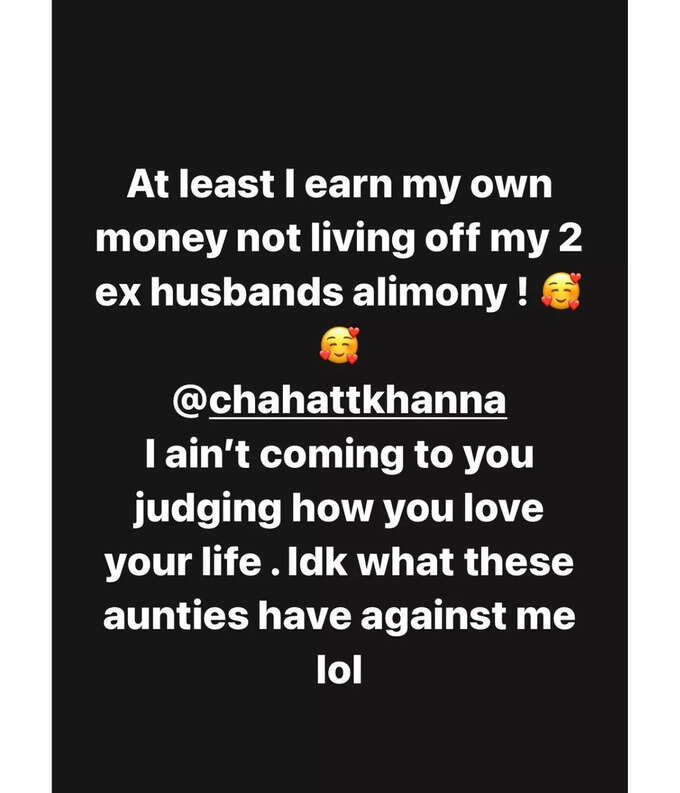 Chahatt responded to Urfi's comments by writing another note in which she explained that she does not want to be a part of this drama, but it is important to let her followers know that she has never taken a penny and that her divorce could have easily been targeted, which everyone is aware of. But people with class would never do that, and she does not expect class from classless people or paid media.
Urfi Javed's fashion buzz has continued to make headlines, as she has increased her boldness and left no stone unturned in her efforts to entertain netizens. Chahatt is a television actor best known for his role in Bade Achhe Lagte Hain.