Video Of SidNaaz Getting Mobbed Outside Hotel Turned Viral; Fan Frenzy Is Amazing To Watch
Get Daily Updates In Email
Bigg Boss 13 champion Sidharth Shukla and his bestie Shehnaaz Gill have been enjoying huge fan following all over the social media handles ever since they entered the controversial house last year. They became the talk of the town during their stint in the reality show.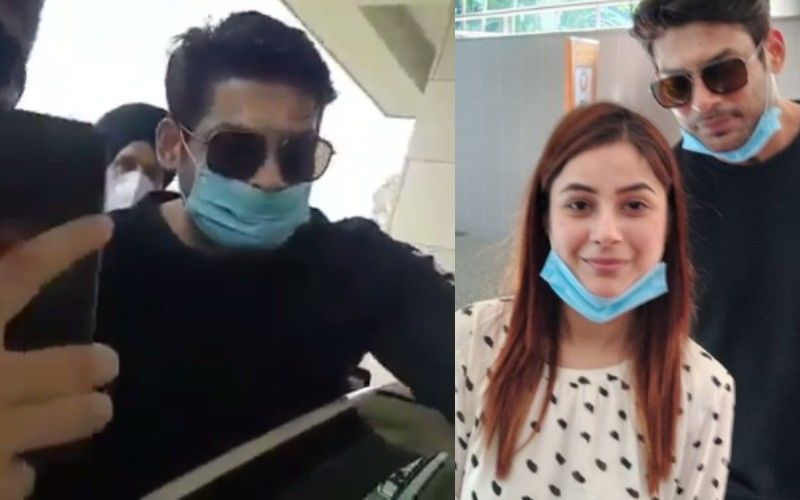 The fans lovingly call them 'SidNaaz' and are always in awe of them. At the present time, Sid and Sana, as they are nicknamed by fans and followers, are filming their new project in the Punjabi city of Chandigarh. Their fans can go to any extent to have a glimpse of the TV stars. They also supported them with their open arms. Even during the pandemic, #SidNaaz buffs and supporters stepped out to welcome Sidharth and Shehnaaz at every given opportunity. Recently, a video recording of the two getting surrounded in their hotel entrance has turned viral all over the web.
A video recording of SidNaaz coming out of their hotel to reach the airport has reached the web. As they step out, fans got crazy and mob Sidharth, whilst Shehnaaz managed to be seated inside the car. As Sid extended his hand for a handshake and to give autographs, his admirers are not letting him go inside the car. Quite patiently and with a wide smile, Sidharth said thank you for all the love and support. He also gave autographs.
In Chandigarh, Sidharth Shukla had a great time. He enjoyed Punjabi lassi, bullock cart ride, and posed like King Khan in the sarson ke khet. The video recordings and pictures of him are all over social media platforms. At the moment, we are waiting to know additional details of their new project.
Published by Ricky Tandon on 11 Nov 2020